Blog
Candidates: profile update request
Tjobs Services: 2023-05-17 13:52:06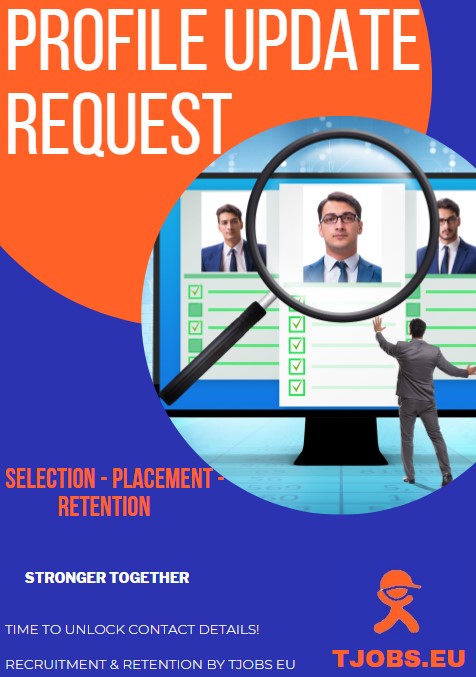 Collaborating towards success: sharing information is key!

In this blog, we inform you about how we deal with a sensitive subject: sharing contact details of potential candidates before employment. Sending CV's through email is very 2009-ish and certainly a difficult issue due to the GDPR regulations. Surely you want to build your own database of candidates but if they did not opt-in for your registration, you need to delete the candidates' contact info after 6 weeks. At the same time, you want to be updated about the status of your pending candidates and be sure that you are not eligible for penalties under the GDPR regulations.

Here is where we can make a difference.

At introduction, the candidate contact details are hidden on the profile. You decide if the information on the profile is worthwhile to get in touch with the candidate. If your Profile Update Request is accepted by the candidate , we open the contact details for you. Being able to retrieve information saved at one single point is very important in our collaboration. As we continuously are in touch with our candidates, we update you about the status of a candidate immediately. ReadyToWork candidates have opted in for registration with Tjobs.eu. So when you are communicating with them, you can be assured that we take care of the privacy aspect during your engagement with candidates.

Let's go to the next step: getting that candidate hired!

During the period of screening but also after hiring, we collaborate with your team of account managers to update the candidates' timeline. During the recruitment process, this can be about information that is not registered on the candidate's profile. During the employment period, this can be information about how the candidate is experiencing the communication with his employer. We keep a trusted relationship with your candidates so you can count on us for support in the background.

The community idea behind our platform is that we promote Dutch vacancies where more candidates look in our window when there is more offer on the shelves. We expect our clients to have experience with foreign candidates, housing according to the SNF quality mark and the employment of employees.

According to the principle of 'stronger together' and a free Social Media Promotion per month included in your Exclusive Access subscription, the focus of our service organization is on increasing the visibility and reach of vacancies. The more users, the higher the quality of ReadyToWork candidates on our platform!

For more information, please visit our services page.