Blog
TjobsEU: Quality of Service
Tjobs Services: 2023-09-19 11:13:11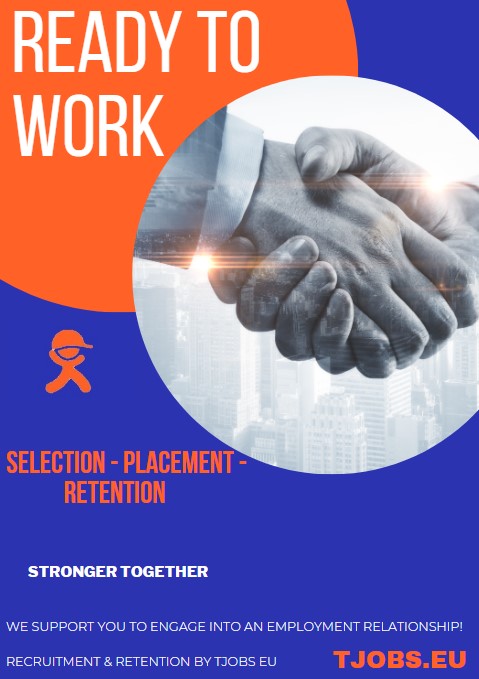 TjobsEU is a service company and we use technology to reach our ambitions: ReadyToWork candidates & Happy Customers! We believe that members of our community bring new insights and innovation to our platform. Clear procedures and close collaboration with our customers are our guidelines for development of new technology.

So what can you expect from our Quality of Service and why is it useful to staffing agencies?

Our ideal ReadyToWork candidate is an EU citizen with matching work experience and education, having the required language skills, appropriate driving license and preferably own means of transport. Our candidates are committed to travel to the country of work by him/herself or with a team of candidates prior to the start date.
We offer our customers an easy-to-use and GDPR proof platform to keep track of your candidates: Shortlist, Hired, Refused & Out of Service. We introduce ReadyToWork candidates only. This means that the candidate applied to your job or a similar job and he/she was contacted & pre-screened by our service consultant. Your day-to-day contact with your service consultant is through our Timeline and WhatsApp. Your time is preferably used for the intake of new projects and organization of accommodation. Our Quality of Service is designed for candidate introductions, logistics & retention. With the support of our service consultants, you are more visible to your clients and you can add more value by being of service whilst your TjobsEU takes care of your candidates.

What makes us different from our competition?

It is the personal and human approach of our service team that provides attention to both employers and employees. We ensure the candidates that were hired by you, get accommodated with their new job and encourage them to be flexible whilst in the Netherlands. With attention to differences in culture, we prepare candidates on what to expect during their stay in the Netherlands and with their new employer. Candidates can address any issue that might occur during employment and we assist the staffing agencies in understanding the nature of the situation.

For more information, please visit our services page.